> Group 4: Overview of the Dissemination of Regionally Integrated Information
Study Groups and Achievements
Group 4: Overview of the Dissemination of Regionally Integrated Information
Group 4, a team focusing on the dissemination of regional information, started out with the theme "to develop new techniques on sending out cultural information." We worked with Groups 1 through 3 that were working on the systematization of nonwritten cultural materials, and aimed to develop (1) a system to disseminate regional cultural information in an integrated way, and (2) a way to train senior curators who are versed in the new techniques. Three years later, (2) was developed into an independent Experimental Exhibition Group that focused on a new theory on exhibition and on personnel training.
Research Process
(1)We first chose a region where nonwritten cultural materials would be turned into data, systematized, then released as software and hardware. In the town of Tadami, Fukushima Prefecture in Japan, we gathered data on folk implements, folklore, documents and landscapes and matched it with physical movements made when using the implements, photos and actual measurements of the implements, substantiations in folklore journals, and documented materials. Then we organically linked them with changes in the environmental landscape (before and after the building of a dam), and presented a model of mountain village life in chronological order. We also demonstrated the role of the museum as a place to disseminate information in order to clarify and develop a region.
Overseas, we cooperated with the Dongba Culture Museum and the Dongba Culture Research Institute in Lijiang City, Yunnan Province, to understand the relationship between the Nakhi people's Dongba ritual, writing system and religious scripture, with regard to bodily techniques (Dongba ritual), images (hieroglyphs), writing system (Dongba scripture) and oral heritage (mythology and annual events). In the first year, we conducted a preliminary study in Lijiang and Tadami, and chose Tadami as the place for dissemination of regional information. The town was chosen not only because of the local residents' cooperation but also because compilation of the town's history, a project that lasted 15 years, had come to completion. From image-related materials such as various documents, folk implements and photographs to natural history material on geology, animals and plants, the materials have been documented and sorted out comprehensively. The materials' approximate relationship with one another and their systematic nature can be understood by referring to the cultural property research report that forms part of the 16-volume town history. We decided that by comparing a variety of local information, it is highly possible to highlight the structure of a mountain village community called Tadami.
(2)Group 4 studied museums in France, Austria, Germany and the United States, with a focus on training courses for curators, and realized the need for cooperation between the regions and the university museums.
From the third year on, as the Experimental Exhibition Group became independent, this Dissemination of Regional Information Group decided to focus on the method of sending out regional information on Tadami via a system called the Internet eco-museum. As previously noted, our original role was to take the findings and know-how of other groups and figure out what can be found by integrating various data on Tadami such as illustrated materials, folk implements, physical techniques and landscapes. For instance, folk implements used in actual rice planting were compared with illustrations in modern books on agriculture. Also, the movement of rice planting in the folkloric Saotome Dance was compared with the posture and movements of actual rice planters through motion capture analysis.
Although these and other studies, such as those on how changes in farmland environment caused by electric power development and structural improvement projects affected farming methods and tools, were considered, we could not link the findings with the study results of other groups and disseminate the regional information. Therefore, the group decided to focus on the database of around 8,000 cards on folk implements that were compiled by the Tadami residents themselves, and to formulate and develop the Internet eco-museum as a system to most effectively offer local information on folk implements.
Since we could not handle all folk implements, we decided to deal with images of folk implements used by thatchers. By going through the folk implements that appear in the images, the range of implements broadened and revealed aspects of regional characteristics. Meanwhile, group members studied seasonal productive activities and annual events in Tadami. In addition, they conducted field studies such as recording the narratives of the elders as well as indoor assignments such as taking photos of folk implements, turning information cards on the implements into a database and turning various materials into visual contents. Although these attempts are far from our initial goal, we believe that we were able to demonstrate at least the concept. We also think that our efforts will add momentum to the unification of regional studies and the fields of information technology, arts and sciences, as well as lead to new intellectual innovation in the form of a synthesis between scientific knowledge and the wisdom of living.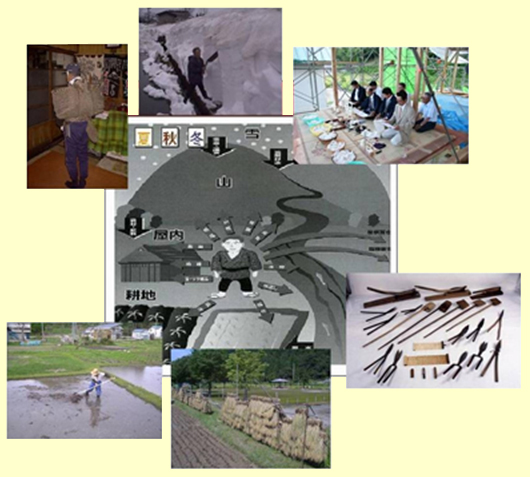 Research Results
We have presented our study results in the "Annual Report: Systematization of Nonwritten Cultural Materials for the Study of Human Societies" as follows: three group members in the fiscal 2003 report (1st Issue, 2004); one member in the fiscal 2004 report (2nd Issue, 2005); and three members in the fiscal 2005 report (3rd Issue, 2006).
During fiscal 2006, we held a symposium in Tadami, Fukushima Prefecture, entitled "Folk Implements Link the World." And during fiscal 2007, we organized the third international symposium entitled "Prospects for Internet Eco-museums: Collaboration between Regional Studies and Information Technology."
Researchers (As of 31 March, 2008)
Program Representatives

SANO Kenji, KITSUKAWA Toshitada, TAJIMA Yoshiya, HIROTA Ritsuko

Joint Researchers

KINOSHITA Hirotsugu, SASAKI Takeo, NAGASE Kazuo, NAKAMURA Masanori, NOTO Masato, HACHIKUBO Koshi, HIRAI Makoto

Research Collaborators

NIKKUNI Isamu, KOMATSU Daisuke, LESIGNE Frederic