> Training the Next Generation of Scholars
Training the Next Generation of Scholars
Training the Next Generation of Scholars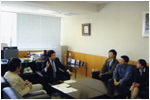 This program established a system for COE research fellows (PD) targeting post-doctorate students (including students who left school without graduating but fulfilled their doctorate course requirements) from both within and outside the university, and a similar system for research fellows (RA) targeting students in the latter stages of their doctoral programs at the graduate school of this university, in order to training the next generation of scholars with potential for international prominence in their respective fields. These systems support research fellows by enabling them to take part in the research and investigation activities of this program and to pursue their research projects, so that they may grow into fully-fledged researchers who focus their research on nonwritten cultural materials. During the five-year period of this program, we employed a total of 16 PD research fellows (actual number is 9), five of whom were dispatched to affiliated overseas research institutions and produced successful research results by writing reports. As for RA research fellows, we employed a total of 22 (actual number is 12), three of whom were able to receive their doctorates. Five RA research fellows were dispatched to China, and two were dispatched to Brazil – both groups were sent to affiliated research institutions.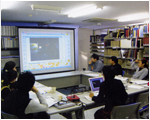 In addition to our system for dispatching researchers overseas, we promoted joint research by inviting young researchers from affiliated overseas research institutions through the system for accepting visiting research fellows. The Graduate School of History and Folklore Studies, which serves as one of the centers in our program, has accepted doctorate students from France, China, Korea and Congo, and the Institute for the Study of Japanese Folk Culture has accepted young researchers from the United States, Canada, Brazil, China and Korea as foreign research fellows. Both of these endeavors have proved immensely successful as opportunities for international academic exchange, and the acceptance of visiting research fellows served as the step to further develop such ties. During the program promotion period, we have accepted a total of 24 young researchers: 17 from China, 1 from Korea, 4 from Brazil, and 2 from Canada.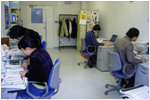 In the educational environment created due to the adoption of our COE program, 14 students newly acquired their doctorates at the Graduate School of History and Folklore Studies (including students scheduled to acquire their doctorates in FY2007). Research results by graduate school students, including PDs and RAs, such as dissertations and research reports, have been published and disclosed in the "Annual Report: Systematization of Nonwritten Cultural Materials for the Study of Human Societies," which proposes adoption of a referee system, and in the proceedings of "History and Folklore Studies." The research results by PDs and RAs in the final fiscal year were collected in the publication "Possibilities on the Research of Nonwritten Cultural Materials – Articles of Research Results from Junior Researchers." It should also be noted that during the program period, 2 receivers of doctorates from the Graduate School of History and Folklore Studies have been employed as part-time instructors in private universities, and one receiver of a doctorate from the Chinese Language and Culture Course at the Graduate School of Foreign Languages has started educational and academic activities as a full-time instructor at our university. In addition, one of the fellows at the Institute for the Study of Japanese Folk Culture has been appointed the associate professor in charge of folklore in a Japanese university.