> Group 1:Systematization of Illustrated Materials and Its Dissemination
Study Groups and Achievements
Systematization of Illustrated Materials and Its Dissemination
Group 1: Overview of the Systematization of Illustrated Materials and Its Dissemination
Research Process
Group 1 was formed with the aim of introducing an unprecedented, unique method of compiling cultural materials of worldwide benefit, through organizing illustrations drawn in the past into pictorial references as a means of understanding a specific culture. Our undertaking is based on five volumes of Emakimono ni yoru Nihon Jomin Seikatsu Ebiki (Pictopedia of Everyday Life in Medieval Japan) published by the Institute for the Study of Japanese Folk Culture. With conventional dictionaries, we acquire knowledge through words. With pictorial dictionaries, however, we do so through illustrations. Our plan was to continue and expand the pictorial index, bearing in mind three objectives: (1) compilation and publication of a multilingual version of Pictopedia of Everyday Life in Medieval Japan with a focus on English, (2) compilation and publication of pictorial references to daily life in early modern and modern times, and (3) compilation of a pictorial dictionary of everyday life in other parts of East Asia.
Although the Institute for the Study of Japanese Folk Culture did bring out a pictorial index of the lives of ordinary people, what we endeavored to complete was pictorial references to daily life. The term "Jomin" (ordinary people), first introduced by Kunio Yanagida, became a basic concept in the field of folklore. However, it only implies the folklore of a single country. Therefore, we concluded that it was not suitable for our worldwide project, and, hence, the term was not used.
We engaged in research activities as a group at all times. Each group member took part in all the three tasks rather than concentrating on one. Our group often held meetings to report and discuss issues and progress. In the fourth year of the program, when we started to arrange and systematize our research results, group members were divided into three teams according to the research topics. Nevertheless, rather than pursuing separate goals, most of us took part in multiple tasks across the teams so that a sense of unity could be maintained. For this purpose, group meetings continued to be held.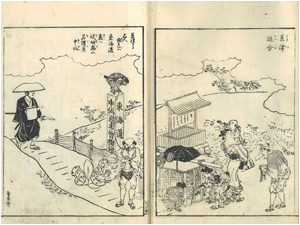 In an attempt to gain inspiration and advice from renowned scholars, introduce our research activities and progress, and seek opinions from non-group members, we organized public workshops and seminars to which lecturers were invited.
Each group member chose his or her own research topic in line with one of the three themes and conducted research inside and outside the country. For an exhibition of pictorial materials held in a museum in Japan, the entire group scrutinized the exhibits. Again, this was done on a collective rather than individual basis. Even though this event was beyond individuals' research activities, a clear goal was set to make the most of the opportunity.
In scientific joint research, experimental and analytic apparatus is shared, and results produced are considered collaborative. Such studies are published in academic journals in the joint names of researchers involved. In the field of humanities, scholars conduct research independently, and results are attributed to individual researchers. Group 1, however, strived to work together toward our common goals and publish pictorial references demonstrating the successful outcome of our collaboration. Even though group members did engage in different tasks, we made efforts to consult with one another.
Research Results
Our main achievement is a series of pictorial references which we compiled. We published two volumes of Pictopedia of Everyday Life in Medieval Japan, three of Pictopedia of Everyday Life in Early Modern Japan and two of Pictopedia of Everyday Life in East Asia – seven in total. So that the outcome would be a shared world asset, we applied the knowledge we acquired through compiling a multilingual version of Pictopedia of Everyday Life in Medieval Japan, which we started first, while working on the one on East Asia.
We also devoted our efforts to collecting publications on pictorial materials and compiling bibliographies. With the help of COE research fellows (PD, RA), we managed to publish Index of Bibliographic Information and Index of Research Literature on Illustrated Materials. The former is an innovative database consisting of bibliographic information on modern publications which contain reproductions of illustrations from earlier times.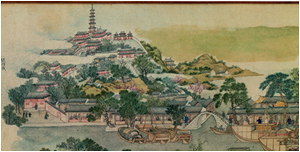 Along the way, we also set up pictorial databases of scenes from daily life and posted a them on our website. Prints consist of those from Tokaido Meisho Zue "Guide to Famous Tokaido Sites", which the Tokaido version of Pictopedia of Everyday Life in Early Modern Japan is based on, as well as the Joseon Period genre paintings of Korea we used for our pictorial reference to the region. A distinctive feature common to these databases is the "search by illustration" function, in addition to the conventional "search by word" method.
Tasks for Group 1
Researchers (as of March 31, 2008)
Task 1
Program Representatives

MAEDA Yoshihiko, BOCCELLARI John

COE Faculty Member

KIM Jeong Ah

Joint Researcher

KIMI Yasumichi

Research Collaborator

SUZUKI Akira, CAI Wengao
Task 2
Program Representatives

YOSHIYA Tajima, NISHI Kazuo, FUKUDA Ajio

COE Faculty Member

NAKAMURA Hiroko

Joint Researcher

KIKUCHI Isao

Research Collaborators

IZUMI Masahiro, TOMIZAWA Tatsuzo, YAMAMOTO Shino
Task 3
Program Representatives

SUZUKI Yoichi, FUKUTA Ajio

COE Faculty Member

KIM Jeong Ah

Joint Researcher

SASAKI Makoto

Research Collaborators

NAKANO Yasushi, HAN Dong Soo, YAN Ming, YOON Hyun Jin, CHUNG Soon Young